Uptown Badaro, FFA Real Estate's development in one of Beirut's most sought-after districts, has reached the final phase in the construction process, which comprises the final touch up to the architectural finishing and the testing and commissioning of the mechanical, electrical and plumbing (MEP) systems. This means that the residential apartments, offices and retails are on course for handover during the month of April.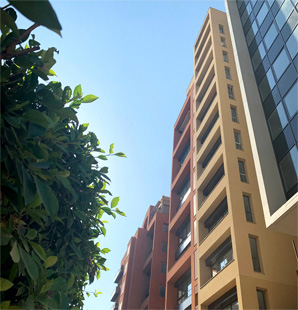 Set on a prime plot on Badaro's main thoroughfare, Uptown Badaro is composed of two blocks, and offers office units, retail space and residential accommodation. In line with the commitment to offering premium facilities and amenities combined with a sustainable approach to energy efficiency, Uptown Badaro's construction incorporates carefully selected materials from the leading Lebanese suppliers in this domain.
To date, the project has received great interest from buyers and currently has only a few spaces that remain available. These are three residential three-bedroom apartments, ranging from 184 to 202 sqm.. Retail space is available with units ranging from 180 to 290 sqm., which include a mezzanine level and ample underground parking spaces.
To book a site visit to view the residential and commercial offering, or for more information, please call +961 1 960 777.